We explored with our Self-Raising flour recently, baking cakes, donuts, replacing plain flour and baking powder in recipes. Lots of fun, and lots of food! 😀
Self-raising flour is generally flour with baking powder added to it. It is a convenient alternative in your pantry, especially when you just happen to run out of baking powder or plain flour.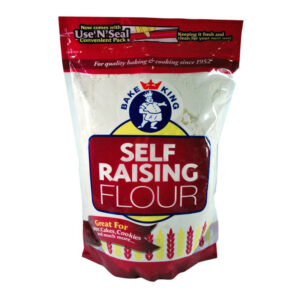 When to use Self-Raising Flour?
Bakes with self-raising flour generally gives a consistent and even rise in the oven. We used it in various recipes, such as our Cinnamon Cake Donuts and Marble Cake.  Many recipes online, such as 3-ingredient scones, biscuits and even our traditional Huat Kueh uses Self-Raising Flour that gives a good rise to the end product.
When not to use Self-Raising Flour?
We do not recommend using Self-Raising Flour in bakes that uses yeast, especially breads and traditional kuehs. Do not substitute with self-raising flour in a recipe without going through in detail.
Storage of Self-Raising Flour
The high humidity of our tropical weather makes storage of our flours tricky. A dark and cool area in our pantry is a good place to keep them. Alternatively, the flour can be kept sealed in the fridge. As baking powder is the key ingredient in Self-Raising Flour, it is ideal to take note of the use-by date and consume by then.
Need more ideas for our Self-Raising Flour? Check out the recipes below.